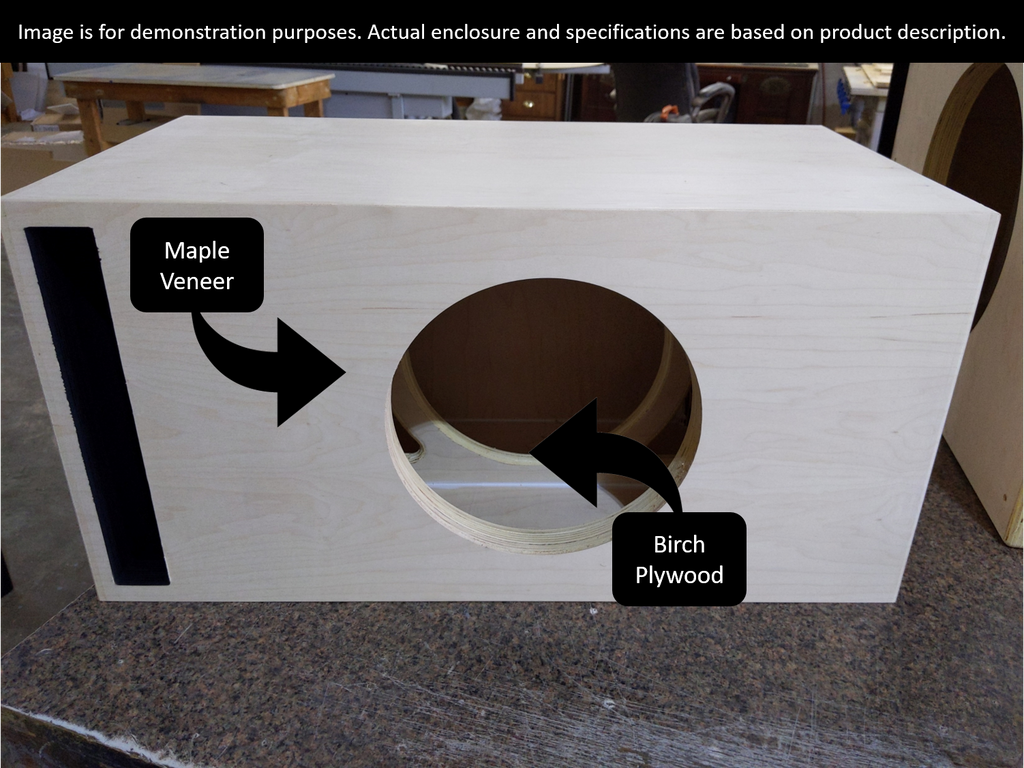 Have Questions? | Tienes Preguntas?
Guaranteed Fitment

Always the correct part

In-House Experts

We know our products

Added Value

We can customize

Safe Shipping

Package is protected
What is a Stage 3?
The Stage 3 comes with many features which are designed to get the best performance and sound quality out of the subwoofer.
Features!

1.75" Front Baffle: Provides an exceptionally strong mounting surface.
Vertical Bracing System (VBS): Prevents enclosure distortion.
Reinforced Port: Helps reduce port noise.
45º Internal Corners: Increase sound quality.
Rounded Corners: Prevent 3dB drop-offs.
CNC Machined: Automatic router cuts all the parts to perfection.
Automotive Grade Carpet: Durable and closely match the trunk area.
Gold Plated Terminal Cups: Increase electrical conductivity.
Click 
HERE
 for additional Stage 3 details.
| General | Value | Description |
| --- | --- | --- |
| Compatible Subwoofer | Skar Audio vxf-12 | Enclosure specifically built for subwoofer. |
| Enclosure Stage | 3 | Extreme Performance. |
| Enclosure Type | Ported | Provides deep bass! |
| Terminal Cups | One (1) | 24 kt. Gold plated. |
| Finish Material | Carpet | Automotive grade. |
| Physical | Value | Description |
| Width | 29.000" | Left to right. |
| Height | 14.000" | Floor to top. |
| Depth | 16.750" | Front to back. |
| Net Volume | 1.80 ft³ | All displacements have been taken into account. |
| Tuning Frequency (Fb) | 33.23 Hz. | Enclosure tuning frequency. |
| Port Width | 2.375" | Width of the port. |
| Port Area | 29.783 ft² | Crossectional area of the port. |
| Cutout Diameter | 11.128" | Specific cutout diameter for the subwoofer. |
| Wall Thickness | 0.750" | Width of the construction material. |
| Baffle Thickness | 1.750" | Solid mounting surface! |
| Weight | 47 lbs. | Estimated weight of enclosure. |